...
Today is the first warm day of March and I eat scrambled eggs outside in the morning sun while my two little boys (ages 4 and 1.5) walk around the front of our property, exploring spring mud, scattering bird seed and discovering the first of the season's crocuses. How many questions do my babes ask me before I have finished my eggs? I lose count.
"Are there lawnmowers in heaven, mommy?"
"Why is mud called mud?"
"Is today spring mommy and is tomorrow going to be June???"
Their little minds are hungry and I teach them from the minute their eyes open with morning's dawn until I sing them to sleep at night. This morning in particular their faces are full of delight and the coffee is hot and black in my cup that overflows with blessing and contentment. Soon the spell will break of course, someone will start to whine or fall in a puddle and need a change of clothes. The laundry pile I left overflowing inside will call my name and there will be dishes to do and floors to clean. But the real work of mothering has already begun. This loving and teaching and exploring together and I am home, here, a part of it.
My toddler runs up to me and I hand him a fork full of fresh warm eggs. I am his provider, his teacher, his friend and above all, his mother.
Mother!
What a blessing that God has shown me this favor.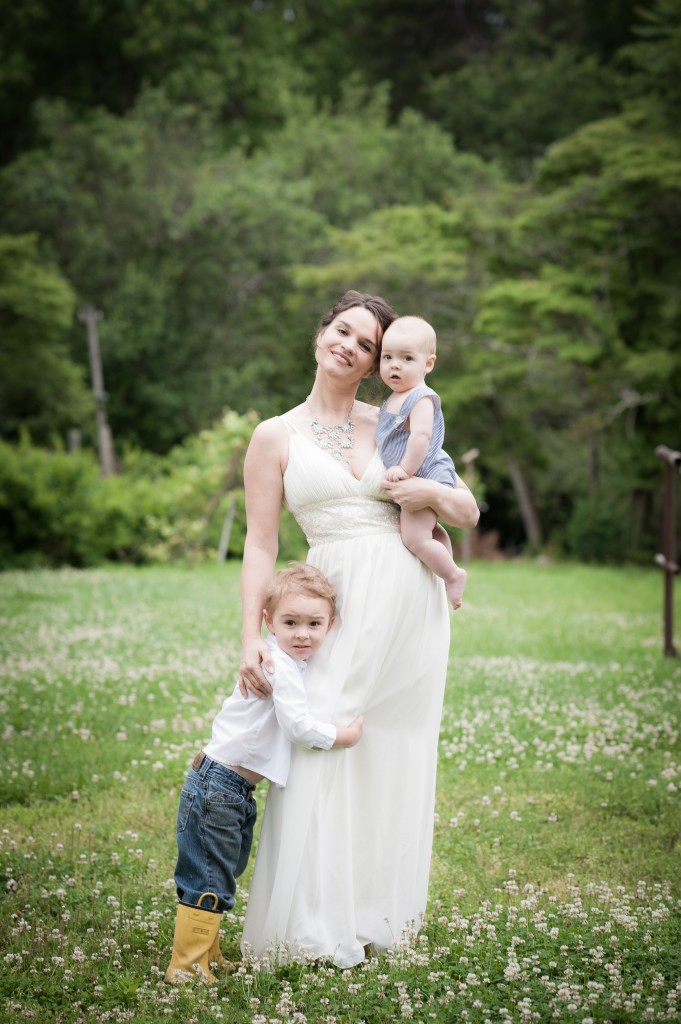 I always knew I would stay at home with my children. But I also knew that I would have a career. I just knew that I wouldn't do both of those things at the same time. For me, it would have felt like trying to celebrate Easter and Christmas on the same day.
In the years before I taught my boys about mud and mowers and scrambled eggs, I wore pretty suits and 3 inch heels and went to court and was a successful attorney. I worked really hard in school for 20 years (God was preparing me, even then, for the hard work of mothering). I went through all those years of school and even sat for the bar exam knowing that one day I would be a stay at home mom. I have just taken life slowly, one season at a time.
I offer this as encouragement to anyone who has invested extensive time and money (oh the money!) on education and formal degrees. You can have a doctorate or a bachelors or a masters or any degree under the sun and put it to work in your daily life as a mother. You do not walk away from that degree or career experience when you become a mother. I know the world tells you otherwise, and it is such a pity. Yes, it will be a different kind of work and it will be an income of an entirely different variety, but motherhood can be the next season along the same path you have always been walking. It is not a matter of walking one path and then dropping off all you have accomplished to jump on another path and start all over. There is no such thing as a "wasted degree." I am still a lawyer, I just don't practice law right now. You can still be a teacher, a counselor, a nurse, a doctor, an engineer. No one can take that from you. Don't let them.
You will run into people who disagree with your choice. I certainly did. But by the time I was making known my plan to leave my job to stay home, I could feel my first baby kicking inside my tummy and all other thoughts and cares just faded to the background. I have a very vivid memory of sitting in my boss's office talking to him about my plans to stay home. I was nervous and had been dreading that conversation. But as I was sitting in that chair my little one started kicking and wiggling inside me and I knew we were in it together.
In deed, after my first was born my whole world was turned on its head. Having your first baby (any baby, really, but particularly your first) is like experiencing life with all of your senses in overdrive. You are awash in hormones, love, perplexity, and tears. I couldn't stand to be apart from my baby. It felt unnatural and went against my maternal instincts. My first baby was also a "high needs baby," colicky, cried constantly unless held or nursed and would only stay asleep with loud white noise like the vacuum cleaner or dryer. We went through all of those days together. He needed me.
Today, four years later, staying home with my children means:
I am the one who lays my baby in his crib for a mid-day nap. I choose the lullaby he hears, which blanket will cover him.
I bandage the cut and dry the tears. I know which song soothes his anxieties and I sing it six times over.
I am the one to notice when a fever starts to run or to give Motrin when I sense teething.
I am able to answer the important question that comes out of nowhere at 2:15 on a Tuesday: "Mommy, what is Jesus doing in heaven right now?"
My primary goal the first 18 months of baby's life is to allow baby to bond deeply with me, so that I start off a step ahead when the toddler years hit and the important training begins.
My husband and I did make changes financially as our household income was cut in half when I stopped working to stay home.
We downsized our house
and eventually became a one car family.
It has all been more than worth it.
My husband and I have thankfully always been on the same page on this issue. I don't remember it exactly but I am sure we talked about it as early as our dating years. If you are single and reading this, I encourage you to wait prayerfully on God's best in a husband for you. If you are already married and wanting to stay home but your husband is opposed to it for financial or other reasons, I encourage you to pray-that God would give your husband a sense of peace, of financial security and ultimately a changed heart. Don't despair, prayer is powerful and God loves you, beloved one.
Motherhood is a sacred vocation. A blessing. I believe it is the hardest work one can do, but also the most rewarding. The most important. Our modern culture has seen fit to strip it of it's value, but on this beautiful spring day, I know the truth. I am living it. I am sharing it with you. It is in my heart, warm, like the sun coming up over the horizon. And I promise you this, it is a blessing, good and true, to be home.